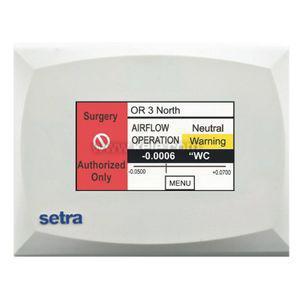 SRCM0R5WBA2F2 | Setra | Pressure
Room Pressure and Condition Monitor, ±0.50" WC, 24 VAC with BACnet, ±0.25%, 2 Snubber
Manufacturer:
Setra
MPN:
SRCM0R5WBA2F2
SKU:
SRCM-0R5WB-A2F2
availability:Call Kele For Availability
add to cart

product specifications
Room Pressure and Condition Monitor, ±0.50" WC, 24 VAC with BACnet, ±0.25%, 2 Snubber
4-20 mA||0-5 VDC||0-10 VDC
ROOM PRESSURE MONITOR, ±0.25%, ±0.50" WC, FLD SEL OUT, BACNET, LCD
product family features
Color coded room status indication
New intuitive interactive interface
Clone configuration capability
Selectable analog voltage and milliamp outputs
Analog current or voltage outputs
more information & related documents
The SRCM Series from Setra is a 2-in-1 solution incorporating the best of the SRPM and adding room condition monitoring capability. A large 4.3" TFT displays room conditions such as room ID, room pressure mode, room status, room pressure and a slide bar that indicates pressure relative to set point. It is also capable of displaying a full screen room condition banner to communicate the current room status and is easily programmed through the SmarTTouch™ display The SRCM Series incorporates a flush mount design for the most esthetic installation. The display hinges up for easy access to a USB port that is provided for quick cloning of multiple units. The SRCM Series also has Multi-room dP measurement capabilities with the use of a remote dP transmitter, as well as the ability to display up to eight parameters utilizing BACnet® MSTP. In addition to the standard analog and relay outputs, the SRCM Series is available in a BACnet® MSTP configuration that is easily setup through the SmarTTouch™ display. The SRCM Series is perfect for applications in laboratory, pharmaceutical, research, isolation room, and surgical suite applications or anywhere maintaining and monitoring differential pressure.
ROOM PRESSURE MONITOR, ++/-0.25%, ++/-0.50" WC, FLD SEL OUT, BACNET, LCD