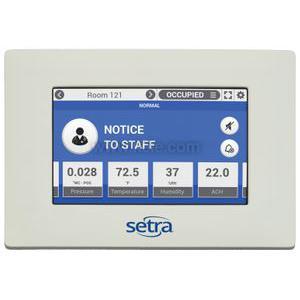 FLEXR05WBRM7SN | Setra | Pressure
Pressure Transmitter, +/-0.05 WC, Monitor Only, No Control Operation, 7" Screen, Setra Logo, No Snubber
Manufacturer:
Setra
MPN:
FLEXR05WBRM7SN
SKU:
FLEXR05WBRM7SN
availability:Usually Ships in Less Than 10 Business Days
add to cart

product specifications
Pressure Transmitter, +/-0.05 WC, Monitor Only, No Control Operation, 7" Screen, Setra Logo, No Snubber
4-20 mA||0-5 VDC||0-10 VDC
ROOM PRESSURE CONTROLLER, ±0.25%, ±0.05" WC, BACNET, MONITOR, LCD, 4-20 MA, 0-5 VDC, 0-10 VDC
product family features
Supports 3 rooms, 6 parameters each
7" Projected capacitive touch screen
BACnet/IP & BACnet MS/TP
Flush mount to wall
Mounts in standard electrical boxes
Full touch response with medical gloves
No programming required
4 Inputs & 2 outputs on-board
On-board or external pressure transducer
Monitor and control pressure, temperature, humidity, air change rate, and 2 user-defined parameters
more information & related documents
The Setra FLEX™ provides a flexible room environmental control and monitoring solution in a simple-to-use package. An attractive flush-mount faceplate is complemented by an intuitive graphical display to meet any architectural requirement. The unit supports 3 rooms, monitoring up to 6 parameters for each room. An optional differential pressure sensor can be either factory-installed in the unit or ordered separately and installed above the ceiling. Integration with building automation systems is made easy through either BACnet/IP or BACnet MS/TP network protocols.
ROOM PRESSURE CONTROLLER, ++/-0.25%, ++/-0.05" WC,