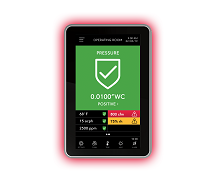 FMS2C-BT41 | Johnson Controls | Pressure
ROOM PRESSURE CONTROLLER, 0.5% ACCURACY, +/- 0.25" WC, NO REMOTE SENSORS,BACNET, 24V-24V
Manufacturer:
Johnson Controls
MPN:
FMS2C-BT41
SKU:
FMS2C-BT41
availability:Usually Ships in Less Than 7 Business Days
add to cart

product family specifications
Pressure, Alarm, Display Range
Digital differential pressure features no offset, zero drift and is hysteresis free
Up to 4 independent spaces
4 universal inputs (0 mA to 20 mA, 4 mA to 20 mA, 0 VDC to 5 VDC, 0 VDC to 10 VDC); 2 thermistor inputs (NTC Type 2 or 3, 10K at 77° F)
4 universal outputs (0 mA to 20 mA, 4 mA to 20 mA, 0 VDC to 5 VDC, 0 VDC to 10 VDC)
4 active-high or active-low, 0 to 5 VDC or 0 to 24 VDC
4 sets of N.O. or N.C. contacts, 1 A @ 24 VDC
BACnet MS/TP (to BAS) 76.8k, 38.4k, 19.2k, 9600 baud, Metasys N2 open
10 to 95% RH (Non-condensing)
24 VAC (nominal, 21.6 VAC minimum/26.4 VAC maximum), 50/60 Hz 30 VA power supply, Class 2, Limited Energy, or LPS
Up to 50 user passwords with 2 access levels (administrator and restricted)
360° Safety Halo™ color coded visual, audible alarm
Thin mount for shallow wall cavities, surface mount for mounting to standard single-gang wall box
6.56 in. x 5.5 in. x 1.88 in. (166.62 mm x 139.7 mm x 47.75 mm)
product family features
Parameters

- Controls and monitors up to six parameters across four rooms

Connectivity - 18 available Input/Output (I/O) resources
Protocols - BACnet® MS/TP and N2 communication
Lighting - 360° Safely Halo™ illuminated edge helps staff monitor spaces down long corridors.
Design - Intuitive user interface allows for fast and easy set up.
Display - 5 in. (127 mm) high definition 720 pixels by 1280 pixels touchscreen display that works with rubber, nitrile, and latex gloves.
Non-volatile memory - Saves users settings in case of a power outage.
Password protection - Two access levels to prevent unauthorized access.
Energy savings - Unoccupied mode reduces air and temperature changes.
Maintenance free pressure sensor - Provides highly accurate, long-term stability.
Home screen customization - The user can define the parameters displayed.
Display override - Display measured values from the other monitored devices within the building management system (BMS).
Global release - Offers a user interface that is translated into 17 languages.
more information & related documents
The Triatek FMS-2000C Critical Environment Controller ensures laboratory and healthcare settings are safe for all occupants by continuously verifying room pressure and airflow. It can precisely control and monitor six parameters, including differential pressure, temperature, humidity, CO2, airflow, and air changes per hour. One controller can control or monitor up to four spaces simultaneously for any of the six parameters. This controller has a displayed flow resolution down to 0.0001 in. W.C. and instantly updates as conditions change.The FMS-2000C provides maximum room status awareness with color-coded visual alarms both on screen and with the 360° Safety HaloTM illuminated edge, which allows staff to easily monitor spaces down long corridors. The audible alarm can be muted with one tap to the screen to help reduce audible alarm fatigue. There are two password protected access levels, one for administrators and one for restricted level users, such as nurses.
ROOM PRESSURE CONTROLLER, 0.5% ACCURACY, +/- 0.25" WC, NO REMOTE SENSORS,BACNET, 24V-24V