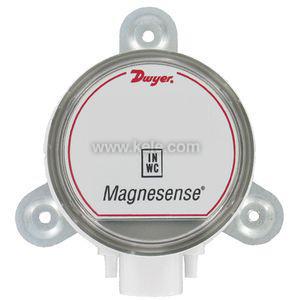 MS-721 | Dwyer Instruments | Pressure
Magnesense Differential Pressure Transmitter, Positive Only Unit, ±1%, 0-5 V, Low Range 0.1, 0.25, 0.5" WC & 25, 50, 100 Pa , Wall Mount
Manufacturer:
Dwyer Instruments
MPN:
MS-721
SKU:
MS-721
availability:Usually Ships in Less Than 5 Business Days
add to cart

product specifications
Magnesense Differential Pressure Transmitter, Positive Only Unit, ±1%, 0-5 V, Low Range 0.1, 0.25, 0.5" WC & 25, 50, 100 Pa , Wall Mount
Uni-Directional||Bi-Directional
Inches of Water Column||Pascals
0-0.10" WC||0-0.25" WC||0-0.50" WC||0-25 Pa||0-50 Pa||0-100 Pa||±0.10" WC||±0.25" WC||±0.50" WC||±25 Pa||±50 Pa||±100 Pa
AIR DIFF PRESS XMTR, MULTI, ±1.00%, 0-0.5" WC, 0-100 PA, 0-5 VDC, NO LCD, WALL
product family features
Field selectable English or Metric ranges
Field upgradeable LCD display
Adjustable damping of output signal (with optional display)
Ability to select a square root output for use with pitot tubes and other similar flow sensors
more information & related documents
The Dwyer Series MS Magnesense® Differential Pressure Transmitter is an extremely versatile transmitter for monitoring pressure and air velocity. Its compact package is loaded with features. The magnetic sensing technology provides exceptional long term performance and enables the Magnesense Differential Pressure Transmitter to be the solution for a myriad of pressure and air flow applications.
AIR DIFF PRESS XMTR, MULTI, +/-1.00%, 0-0.5" WC, 0-100 PA, 0-5 VDC, NO LCD, WALL