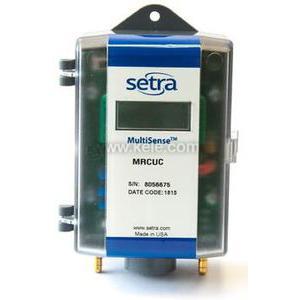 MRCSD | Setra | Pressure
Multi-Range Critical Pressure Transducer, ±0.50% 0-0.25" WC, ±0.25" WC, Standard Base Mount, PG9 w/ Cal Certification
Manufacturer:
Setra
MPN:
MRCSD
SKU:
MRCSD
availability:Usually Ships in Less Than 10 Business Days
add to cart

product specifications
Multi-Range Critical Pressure Transducer, ±0.50% 0-0.25" WC, ±0.25" WC, Standard Base Mount, PG9 w/ Cal Certification
Uni-Directional||Bi-Directional
Inches of Water Column||Pascals
4-20 mA||0-5 VDC||0-10 VDC
0-0.10" WC||0-0.25" WC||0-25 Pa||0-50 Pa||±0.10" WC||±0.25" WC||±25 Pa||±50 Pa
AIR DIFF PRESS XMTR, MULTI, ±0.50%, 0-/±0.25" WC, 0-/±50 PA, FLD SEL OUT, LCD, WALL
product family features
Field configurable duct probe
Field accessible push-button zero and span
External mounting tabs and optional DIN Rail
more information & related documents
The Setra MRC Series differential pressure transmitter is the first multi-range transducer designed for critical environments and the stringent requirements of difficult applications. The MRC offers class leading +/-0.5% FS accuracy in selectable ranges down to 0.1″W.C., which is required for critical applications. Setra's MRC comes with three different housing configurations; duct probe, DIN Rail mount and a universal model to cover any installation changes on the job site. The MRC housing is a robust IP67 rated design and is sealed with a gasket to make it wash-down capable for difficult applications.
AIR DIFF PRESS XMTR, MULTI, +/-0.50%, 0-/+/-0.25"