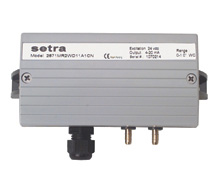 * product family image displayed
M267-MR3-V5 | Setra | Pressure
MULTI-RANGE DP XMTR 0-5VDC
Manufacturer:
Setra
MPN:
M267-MR3-V5
SKU:
M267-MR3-V
Availability:
Contact Kele for more information
add to cart

product family specifications
0-5(10)v output 9(12) to 30VAC @ 0.6 VA; 0-5(10)v output 9(12) to 30V @ 25 mA
0-5V @ 5KΩ, 4-20mA @ 750Ω (loop powered)
(Z/S) Zero & Span trim POTs
4 multi-range groups (See ordering)
(Burst) ±10 psid (68.95 kPa)
(Proof) ±10″WC, (±2.5kPa)
Media Compatibility Inert
3/16″OD brass, for 1/4″ OD tubing
1/2″ gland, Terminals- 2 used-(4-20mA), 3-(Volts)
2 , #10 screws (vertical position)
Glass filled polycarbonate, NEMA 4 (IP65)
6.2″ w x 3.2″ h x 3.65″ d, (15.8 x 8.0 x 9.3 cm)
product family features
Measure six ranges with one unit (three positive and three bidirectional ranges)
1% accuracy in each range
10 psig (68.70 kPa) maximum overpressure
Available in current or voltage outputs
Available in ranges up to 30" W.C. (7.473 kPa)
Easily reranged with dip switches
more information & related documents
The Model M267-MR Differential Pressure Transmitters are multi-rangeable low air differential pressure transmitters. These differential pressure transmitters replace six single-range pressure transmitters and are ideal for stocking. Each transmitter is factory calibrated for its highest range, but can easily be recalibrated for a specific Building Automation Systems, BAS, application. The rugged poly-carbonate NEMA 4 case protects the internal electronics from the environment.
MULTI-RANGE DP XMTR 0-5VDC
Installation Guide