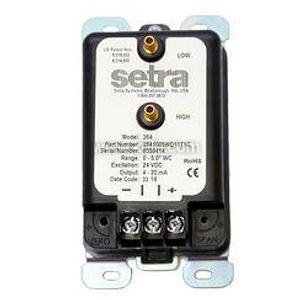 2641050WD11T1G | Setra | Pressure
Setra Model 264, 0-50" WC, 4-20 mA, Terminal Strip, ±1%, With Calibration Certificate
Manufacturer:
Setra
MPN:
2641050WD11T1G
SKU:
2641050WD11T1G
availability:Usually Ships in Less Than 10 Business Days
add to cart

product specifications
Setra Model 264, 0-50" WC, 4-20 mA, Terminal Strip, ±1%, With Calibration Certificate
AIR DIFF PRESS XMTR, FIXED, ±1.00%, 0-50.00" WC, 0-5 VDC, NO LCD, WALL
product family features
Voltage output signal optional
10 psig (68.70 kPa) overpressure
Three-year unconditional warranty
1% accuracy standard, 0.4% and 0.25% NIST certification optional
Stainless steel diaphragm
Ideal for air and non-conducting gases
more information & related documents
The Setra Model 264 Differential Pressure Transmitter is a low-air pressure transmitter able to sense differential pressure in both negative and positive ranges. The Model 264 incorporates a tensioned stainless steel diaphragm to form a variable capacitor that will produce variation in the output signal. The Model 264's durable design will tolerate an overpressure of 10 psig (68.95 kPa) and has an unconditional three-year warranty.. Kele is the leading supplier of building automation products. When you need the right product, right now, count on Kele.
AIR DIFF PRESS XMTR, FIXED, +/-1.00%, 0-50.00" WC, 0-5 VDC, NO LCD, WALL