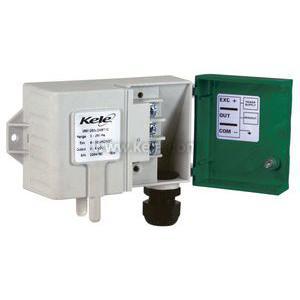 DPL-1-4 | Kele | Pressure
Air Differential Pressure Transmitter, Fixed, ±1.00%, 0-0.25" WC, 4-20 mA, No LCD, Wall
Manufacturer:
Kele
MPN:
DPL-1-4
SKU:
DPL-1-4
availability:Usually Ships in Less Than 10 Business Days
add to cart

product specifications
Air Differential Pressure Transmitter, Fixed, ±1.00%, 0-0.25" WC, 4-20 mA, No LCD, Wall
AIR DIFF PRESS XMTR, FIXED, +/-1.00%, 0-0.25" WC, 4-20 MA, NO LCD, WALL
product family features
Reverse wiring protection
4-20 mA, 0-5 or 0-10 VDC output
Bidirectional ranges available
more information & related documents
The Kele DPL Series Low Differential Pressure Transmitters offer reliable pressure measurements as low as ±0.10" w.c. (±25 Pa) with an exceptional 1% full scale accuracy. The rugged capacitance sensor can withstand up to 10 psig over pressure without damaging the unit. The transmitters feature reverse wiring protection and easily accessible zero and span pots. The DPL Series are designed for energy management systems, environmental pollution control, HVAC, and building automation applications.
AIR DIFF PRESS XMTR, FIXED, +/-1.00 %, 0-0.25" WC, 4-20 MA, NO LCD, WALL
Installation Instructions