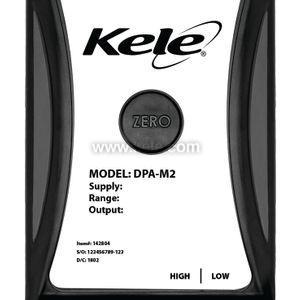 DPAM2-10D-U-10-5 | Kele | Pressure
DPAM2 Air Differential Pressure Transmitter, ±0.50%, 10.00" WC, Uni-Directional (0 to +), 0-10 VDC, NIST Certification 5 Point
Manufacturer:
Kele
MPN:
DPAM2-10D-U-10-5
SKU:
DPAM210DU105
availability:Usually Ships in Less Than 14 Business Days
add to cart

product specifications
DPAM2 Air Differential Pressure Transmitter, ±0.50%, 10.00" WC, Uni-Directional (0 to +), 0-10 VDC, NIST Certification 5 Point
AIR DIFF PRESS XMTR, FIXED, ±0.50%, 0-10.00" WC, 0-10 VDC, NO LCD, DIN RAIL
product family features
Integral 35 mm DIN Rrail mounting foot
Vertically orientated wiring and pressure connections
Pushbutton zero function located on the front cover
High accuracy, piezoresistive, silicon sensing element
De-pluggable terminal block
more information & related documents
The Kele DPAM2 low differential pressure transmitter series is designed for use in OEM or high density DIN rail panel mounting applications. Key installation features include an integral 35 mm DIN rail mounting foot, vertically orientated wiring 1/4″ brass barb pressure connections, and a pushbutton zero function conveniently located on the front cover. The DPAM2 incorporates a high accuracy, piezoresistive, silicon sensing element which senses differential pressure and provides a linear 4 to 20 mA or 0-5V/0-10V voltage output equal to the specifc pressure range. In addition, the unit contains a de-pluggable terminal block that can be removed for east of installation. This unit must be ordered with a single uni or bi-directional pressure range and output signal from ±0.1″ of water column to a maximum pressure of ±40″ of water column depending on your application. All DPAM2 series pressure transmitters are calibrated using NIST Certified equipment. Optional 3 or 5 point NIST certificates are available and must be specified when placing your order.
AIR DIFF PRESS XMTR, FIXED, +/-0.50%, 0-10.00" WC, 0-10 VDC, NO LCD, DIN RAIL
Kele DPAM2 Install Sheet