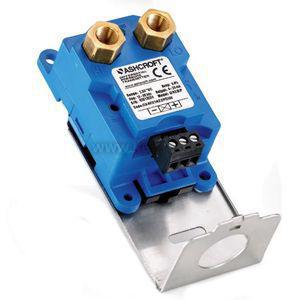 CX8F0142P25IW | Ashcroft, Inc. | Pressure
CXLdp Series Air Differential Pressure Transmitter, ±0.80% of span, ± 0.03% of span T.C. /°F, 1/8 NPT Female, 4-20 mA, Supply Voltage 12-36 Vdc, 0-0.25" WC
Manufacturer:
Ashcroft, Inc.
MPN:
CX8F0142P25IW
SKU:
CX8F0142P25IW
availability:Usually Ships in Less Than 21 Business Days
add to cart

product specifications
CXLdp Series Air Differential Pressure Transmitter, ±0.80% of span, ± 0.03% of span T.C. /°F, 1/8 NPT Female, 4-20 mA, Supply Voltage 12-36 Vdc, 0-0.25" WC
AIR DIFFERENTIAL PRESSURE TRANSMITTER, FIXED, ±0.80%, 0-0.25" WC, 4-20 MA, 12-36 VDC
product family features
Reliable, stable capacitive sensor
Reverse polarity protected
DIN rail mount CXLdp models
Power LED on CXLdp models
more information & related documents
The CX/RXLdp Series differential pressure transmitters are designed for use with air and other non-corrosive gases. The CXLdp Series feature an accuracy of 0.8% and can be DIN rail mounted. The RXLdp Series are constructed with a stainless steel enclosure and offer a 1% accuracy.
AIR DIFF PRESS XMTR, FIXED, +/-0.80%, 0-0.25" WC, 4-20 MA, LED, DIN RAIL, WALL