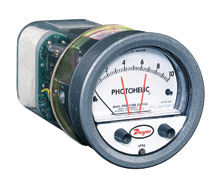 * product family image displayed
A3002-24VAC | Dwyer Instruments | Pressure
PHOTOHELIC 0-2IN W.C., 24VAC
Manufacturer:
Dwyer Instruments
MPN:
A3002-24VAC
SKU:
#3002-24VAC
Availability:
16 In Stock
add to cart

product family specifications
±2% of FS at 70℉ (21.1℃), ±3% on -0 and ±4% on -00 models
Air and non-combustible, compatible gases
-20″ Hg to 25 psig (-67.7 to 172 kPa)
MP Option 35 psig (241 kPa)
HP Option 80 psig (551 kPa)
A36003S-36010S 150 psig (1034 kPa)
A36020S and higher 1.2 x full-scale pressure
20° to 120℉ (-6.67° to 48.9℃)
4″ (101.6 mm) dial face, 5″ (127 mm) OD x 8 1/4″ (209.55 mm)
Each setpoint has 2 Form C relays (DPDT)
10A @ 28 VDC, 10A @ 120, 240 VAC
Screw terminals. Use 167℉ (75℃) copper conductors only
120 VAC, 50/60 Hz; 240 VAC & 24 VAC power optional
Diaphragm in vertical position.
product family features
Gage pointer and light shutter are mounted on helix and balancing counterweight
Light shield effectively protects phototransistors from strong outside light sources
Optical limit switches are used for reliability and long service life
Load relays a re DPDT with latching feature for maximum application versatility
more information & related documents
The Dwyer A3000 Series Photohelic® switches/gages function as versatile, highly repeatable pressure switches combined with a precise pressure gage employing the time-proven Magnehelic® gage design. The Photohelic® gage measures and controls positive, negative or differential pressures of air and compatible gases. Standard models are rated to 25 psig with options to 35 or 80 psig. Single pressure 36000S models measure to 6000 psig with a 9000 psig rating.
PHOTOHELIC 0-2IN W.C., 24VAC