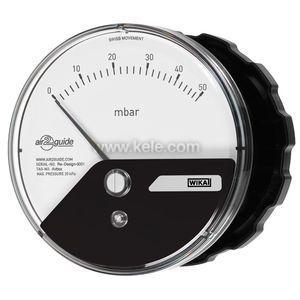 50692909 | Wika Instrument Corporation | Pressure
Dial Gauge, Analog, ±3.00%, 0-6.00" WC, 4.50" Dial, 1/8" NPT, Dry, Center Back Mount, 4-20 mA
Manufacturer:
Wika Instrument Corporation
MPN:
50692909
SKU:
A2G15420PP06
availability:Usually Ships in Less Than 14 Business Days
add to cart

product specifications
Dial Gauge, Analog, ±3.00%, 0-6.00" WC, 4.50" Dial, 1/8" NPT, Dry, Center Back Mount, 4-20 mA
Dial Gauge, Analog, ±3.00%, 0-6.00" WC, 4.50", 1/8" NPT, Dry, Cntr Bck Mount
product family features
Red mark pointer standard
Simple mounting and dismounting
Analog output signal(A2G-15)
more information & related documents
The Wika A2G Series (Air2Guide) pressure gauges are the latest innovation in accurate, full featured, pressure gauges and are ideally suited for the measurement of low pressure and differential pressure from 1.0″ to 50″ WC. Both the A2G-10 and the A2G-15 Series incorporate a two-piece modular design. A benefit of the modular design is a two-part assembly that separates the measuring system from case components. This allows the replacement of only the measuring system, which provides reduced repair costs. The panel mount version of the air2guideP is extremely easy to install and requires no tools. In addition to the local display, the A2G-15 features an electronic output signal and is available with a 2-wire, 4 to 20 mA or 3-wire 0 to 10 VDC output signal. This A2G-15 gauge is ideal for applications where a local indication and remote monitoring or evaluation is needed.
DIAL GAUGE, ANALOG, +/-3.00%, 0-6.00" WC, 4.50", 1/8" NPT, DRY, CNTR BCK MOUNT
Wika Instrument Corporation