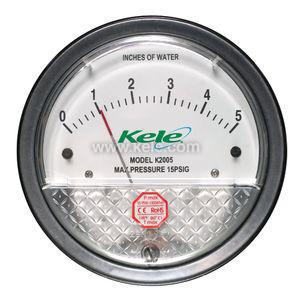 K2004D | Kele | Pressure
Dial Gauge, Analog, ±2.00%, 0-4.00" WC, 0-1000 Pa, 4.00" Dial, 1/8" NPT, Dry, Center Back Mount
Manufacturer:
Kele
MPN:
K2004D
SKU:
K2004D
availability:Usually Ships in Less Than 28 Business Days
add to cart

product specifications
Dial Gauge, Analog, ±2.00%, 0-4.00" WC, 0-1000 Pa, 4.00" Dial, 1/8" NPT, Dry, Center Back Mount
Inches of Water Column||Pascals
DIAL GAUGE, ANALOG, ±2.00%, 0-4.00" WC, 0-1000 PA, 4.00" DIAL, 1/8" NPT, DRY, CNTR BCK MOUNT
product family features
Easy-to-read 4" (10.16 cm) white dial and red-tipped pointer
Flush or surface mounting
Easily accessible zero adjustment
Corrosion-resistant cast aluminum housing
Back and side connections
more information & related documents
The Kele K2000 Series Differential Pressure Gauges can be used in applications for measuring positive, negative, or differential pressure with an accuracy of 2%. The gauge includes a 4" (10.2 cm) easy-to-read dial, housed in a rugged die cast aluminum housing. The K2000 Series has both back and side connections so that it may be either surface- or flush-mounted. Ranges are available from 0" to 0.25" W.C. up to 10" W.C.
DIAL GAUGE, ANALOG, +/-2.00%, 0-4.00" WC, 0-1000 PA, 4.00" DIAL, 1/8" NPT, DRY, CNTR BCK MOUNT
Instruction Manual