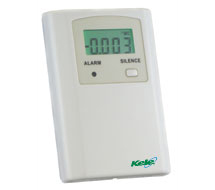 KRPM | Kele | Pressure
STAINLEES STEEL PICK UP PORT
Manufacturer:
Kele
MPN:
KRPM
SKU:
KRPM
add to cart

product family specifications
24 Vac/dc ±10%, 70 mA max
Signal Output (Volts,Current, Switch)
Analog out optional (No BACnet)
0 to (5,10) VDC @2 KΩ min
4-20mA sourcing, 750Ω max
SPST N.O., 2A @120VAC or 30 VDC
Adjustable High & Low pressure limits
Adjust Local Set on touch screen for alarm relay
Single room differantial pressure monitor
Optional BACnet MS/TP (No analog out)
Field Interface Devices (order Separately)
RPS SS room pressure probe
3- digit backlit LCD, 0.45″H, (WC or Pa)
85㏈ buzzer w/silence button, (Selectable volume)
Auto zero internal push button
± 1% F.S. from (±1″ to ±0.25″) WC
Averaging from 1-60 sec., menu selectable (5s default)
High/Low range selected by order
High Range Field selectable
± 1.0″ or ± 0.5″ WC, (±250 Pa or ±125 Pa)
Low Range Field selectable
± 0.25″ or ± 0.125″ WC, (±60 Pa or ±30 Pa)
Max Operating Pressure (Proof)
Two-1/8″ ID ports w/Adapters, for 1/4″ OD tubing
5-8 Terminals (14-22 AWG)
Slotted back plate for surface or BB wall mount
NEMA 1 (IP30), White ABS plastic
3.3″W x 4.7″H x 1.15″D, (8.4 x 11.9 x 2.9 cm)
product family features
Low pressure monitoring to ±0.125″WC (30 Pa)
Four selectable ranges per model
Selectable analog output model
BACnet communications model
Alarm funtions with selectable trip point
Easy set up via menu on LCD display
more information & related documents
The Kele KRPC Series room pressure monitor is used to measure differential pressure in the range of ±0.125″ to 1″WC or ±30 to 250 Pa. It combines precision high sensitivity silicon sensing capabilities and the latest ASIC technology to substantially reduce offset errors due to changes in temperature, stability to warmup, long term instability and position sensitivity. It is ideal for monitoring pressure for air or other clean inert gas. It features field selectable bi-directional pressure ranges and output signal types for the most flexible application. The device has an on-board auto-zero function, backlit LCD and alarm function with silence switch.
STAINLEES STEEL PICK UP PORT