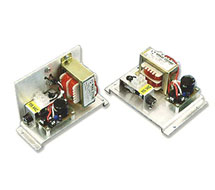 * product family image displayed
PS-200-1-A-2-L | MAMAC Systems | Power Supplies
24VDC; 1.5 AMPS;230VAC; LOW HGT
Manufacturer:
MAMAC Systems
MPN:
PS-200-1-A-2-L
SKU:
PS2001A2L
Availability:
Contact Kele for more information
add to cart

product family specifications
24-29 VAC / 90-130 VAC / 208-240 VDC
0.2% (no load to full load)
3AG 1.0/2.0 (In voltage only)
-40° to 120℉ (-40° to 50℃)
product family features
Clean, filtered and regulated DC output
Easily accessible inline fuse
Less than 2.0 mV pp ripple
Two unique chassis for ease of installation in control panels
more information & related documents
The MAMAC Systems PS-200 power supply accepts a 115, 230 or 24 VAC input and provides a 5 to 25 VDC output that is both fully regulated and protected from short circuiting and thermal overloads. The PS-200 incorporates an inline fuse and terminal strip for the primary line voltage and multiple-position terminal strips for the DC output. Two unique chassis options are available for the PS-200, making it one of the most versatile, reliable, indestructible, easy to install, and stable power supplies in the industry.
24VDC; 1.5 AMPS;230VAC; LOW HGT