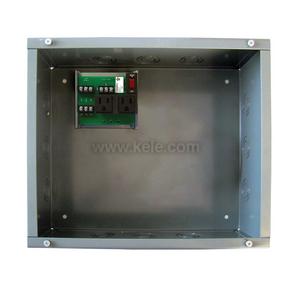 PSH2RB10 | Functional Devices | Power Supplies
2.75" Track Mount UPS Power Control Center in 12" x 16" x 6" Enclosure
Manufacturer:
Functional Devices
MPN:
PSH2RB10
SKU:
PSH2RB10
availability:Usually Ships in Less Than 5 Business Days
add to cart

product specifications
2.75" Track Mount UPS Power Control Center in 12" x 16" x 6" Enclosure
product family features
One or two transformers in pre-packaged metal enclosure
40, 75 and 100 VA Class 2 transformers
Output switch/circuit breaker and LED indication
Optional primary switch/circuit breaker
Optional 120 VAC convenience outlets
To order UL508 add 1C to the end
more information & related documents
The PSH Series Functional Devices enclosed 24 VAC Class 2 power source includes one or two transformers, pre-packaged in a metal enclosure. These are engineered for use in temperature control systems, industrial applications and building automation systems, BAS. The transformers are available in 40VA, 75VA and 100VA sizes. A switch and circuit breaker is provided for switching the output of each transformer. An optional switch and circuit breaker is available for controlling power to the entire unit. Other handy features include an LED to indicate the presence of 24 volt AC at the Class 2 output terminals or wires, an internal high-voltage wiring compartment, and two optional 120 volt AC grounded convenience outlets.