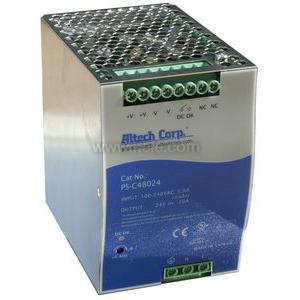 PS-C48048 | Altech | Power Supplies
480W High Efficiency Compact Housing Power Supply, 48 VDC, 10.0 A, DIN Rail
Manufacturer:
Altech
MPN:
PS-C48048
SKU:
PS-C48048
availability:Usually Ships in Less Than 15 Business Days
add to cart

product specifications
Building Automation System||HVAC||BAS
480W High Efficiency Compact Housing Power Supply, 48 VDC, 10.0 A, DIN Rail
Short Circuit||Overload||Over Voltage||Over Temperature
POWER SUPPLY, 90-264 VAC||127-370 VDC, 48 VDC, 10.0 A
more information & related documents
Altech's PS, PSB, PSC, PSP and PSW Series DIN Rail mountable power supply lines are reliable, cost effective, space economical and easy to install and maintain. They are able to handle any industrial process requirement. In addition, you do not need to oversize them; they are designed to work on 100% load capacity. The universal input, power factor correction and many approvals proves that Altech Power Supplies will function worldwide on a wide variety of applications. Wide operation temperature range, high efficiency and many protections make Altech Power supplies your best choice. Kele is the leading supplier of building automation products. When you need the right product, right now, count on Kele.
480W, 10A 85-264VACIN;48VDC OUT;COMP.PFC
PSA-60024 Data Sheet
PS-S10 Data Sheet
PS-S20 Data Sheet
PS-S40 Data Sheet
PSC-Series Datasheet
PS-S60 Data Sheet
PS-S100 Data Sheet
PS-75 Data Sheet
PS-120 Data Sheet
PSH-120 Data Sheet
PSP-240 Data Sheet
PSP-480 Data Sheet
PSP-480S Data Sheet
PST-240 Data Sheet
PST-480 Data Sheet
PST-960 Data Sheet
PS-RDN20 Data Sheet
PS-UPS40 Data Sheet
PS-15 Datasheet
PS-30 Data Sheet
PS-45 Data Sheet
PS-60 Data Sheet
PS-100 Data Sheet
PSA-12024 Data Sheet
PSA-18024 Data Sheet
PSA-36024 Data Sheet