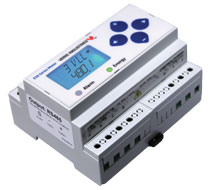 * product family image displayed
AH02 | Veris Industries | Power Monitoring & Protection
FUSE PACK, SINGLE
Manufacturer:
Veris Industries
MPN:
AH02
SKU:
AH02
Availability:
Usually Ships in Less Than 12 Business Days
add to cart

product family specifications
UL 90 VAC (L-N) to 600 VAC (L-L), 50/60Hz
90 VAC (L-N) to 300 VAC (L-L), 50/60Hz
Line to Line: 90 to 600 VAC
Line to Line with potential transformer: 601 to 32000 VAC
2 (E50H5 only) Pulse Solid-State or mechanical contacts (current less than 1 mA) Minimum Pulse Width 20 msec
E50B1 Reactive energy pulse 30 VAC/DC
E50C1 RS-485 2-wire Modbus RTU Basic Data Set
E50C2/E51C2 RS-485 2-wire, Modbus RTU Full Data Set
E50C3/E51C3 RS-485 2-wire Modbus RTU Full Data Set, data logging
E50H3 RS-485 2-wire BACnet MS/TP Full Data Set, data logging
Real power and energy 0.2% (ANSI C12.20, IEC 62053-22 Class 0.2S)
22° to 158℉ (-30° to 70℃)
14° to 122℉ (-10° to 50℃)
DIN Rail or 3-point screw mount
2.3" x 4.2" x 3.6" (5.9 cm x 10.7 cm 9.1 cm)
CE, UL508, UL File #E339785, RoHs
product family features
Monitors 1, 2, or 3 phase services
Monitors services up to 600 VAC directly and 32,000 VAC with use of a potential transformer
Accepts .333 VAC or 1V Current Transformer's (sold separately)
DIN mounting for easy installation
BACnet, Modbus RTU or pulse output
90-600 VAC for application versatility
Bright backlit LCD with easy visibility
Pulse and phase loss alarms standard
User-enabled password protection
Approved for California Solar applications
more information & related documents
The Veris E50 Series power meter provides a solution for measuring energy data with a single device. Inputs include Control Power, CT, and 3-phase voltage. The E50 supports multiple output options, including solid state relay contacts, BACnet, Modbus (with or without data logging), and pulse. The LCD screen on the faceplate allows instant output viewing. The meter is housed in a plastic enclosure suitable for installation on T35 DIN rail according to EN50022. The E50 can be mounted with any orientation over the entire ambient temperature range, either on a DIN rail or in a panel. The meter is not sensitive to CT orientation to reduce installation errors.