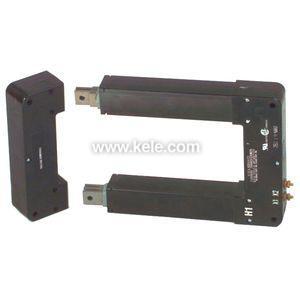 500T-041X117-122 | Electromagnetic Industries LLP | Power Monitoring & Protection
Current Transformer Split Core 1200:5 4.1X11.7 Window
Manufacturer:
Electromagnetic Industries LLP
MPN:
500T-041X117-122
SKU:
501T-122
add to cart

product specifications
Current Transformer Split Core 1200:5 4.1X11.7 Window
CT SPLIT CORE 1200:5 4.1X11.7 WINDOW
product family features
Split-core construction for easy installation
Brass stud terminals #8-32 with one flat washer, lockwasher, and regular nut
more information & related documents
The Electromagnetic Industries Model 500T and 501T split-core current transformers provide a low-amperage current output proportional to line current and are for use in energy management control and metering applications. These transformers are ideal for use as inputs to power monitors such as the endicator™ and current transducers such as Models 4CTV and 4CMA.These transformers are designed to be assembled around an existing insulated conductor without the need for dismantling the primary bus or cables. The portion of the transformers marked "This End Removable" can be disassembled and then reassembled around the conductors that require current monitoring.
CT SPLIT 1200:5 4.1X11.7 WIN
Electromagnetic Industries LLP
Model 500 Datasheet