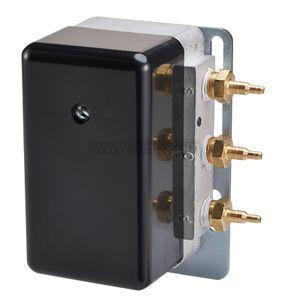 V-9502-75 | Johnson Controls | Pneumatics & Fittings
Positioner With Mounting Kit
Manufacturer:
Johnson Controls
MPN:
V-9502-75
SKU:
V-9502-75
Availability:
Lead time > 15 days. See alternatives below or chat with Sales.
add to cart

product specifications
Positioner With Mounting Kit
POS FOR V-3000-8001/NO RINGS
product family features
Low profile fits tight spaces
Barbs for 1/4" or 1/8" OD poly tubing, or 1/8" FNPT air connections
Fits all VG7000 valves from 1/2" to 2"
Replaceable synthetic rubber diaphragm
Full selection of spring ranges
more information & related documents
The Johnson Controls V-3000, MP800 Series pneumatic valve assemblies accurately control the flow of steam, hot water, or cold water through coils and heat exchangers of all types. These actuators have a molded, synthetic rubber diaphragm contained in a sturdy metal housing that protects against dirt and damage. Optional V-9502 pilot positioners offer increased force for very stable, accurate control, or for sequencing heating/cooling valves.
POS FOR V-3000-8001/NO RINGS