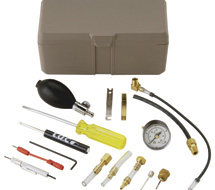 * product family image displayed
JC-5309 | Mccally Tool And Supply Company | Pneumatics & Fittings
ALLEN HEAD FLEX SCREWDRIVER
Manufacturer:
Mccally Tool And Supply Company
MPN:
JC-5309
SKU:
JC-5309
Availability:
75 In Stock
add to cart

product family specifications
more information & related documents
The Schneider Electric TOOL-95-1 pneumatic controls calibration kit is indispensable for pneumatic calibration in building automation systems. The calibration equipment includes gauges, wrenches, tees, screwdrivers, and a squeeze-bulb pump. The TOOL-M-225 is a larger, replacement squeeze-bulb pump for higher air volumes.
ALLEN HEAD FLEX SCREWDRIVER
Mccally Tool And Supply Company
TOOL-95 Kit Installation Sheet