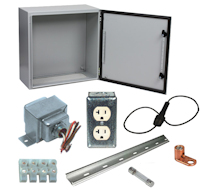 CCP161608 | KELE | Panel Fabrication
CONTRACTOR CONTROL PANEL KIT, NEMA 4, 16X16X08
Manufacturer:
KELE
MPN:
CCP161608
SKU:
CCP161608
add to cart

product family specifications
product family features
• Precut Aluminum DIN rail
• Grounding lug
• Terminal block
• Convenience outlet
• Inline fuse holder
• Secondary fuse protection (2 A and 250 V)
• Transformer (40 VA or 100VA, 120: 24VAC)
• Perforated backing for easy control component mounting
• Control components can be set and easily attached with number 7/8 self-tapping screw in pre-punched holes
• RET4 enclosure (NEMA 4) in sizes 16x16 or 24x24
• RET1 enclosure (NEMA 1) in sizes 20x18 or 26x20

more information & related documents
The Kele Contractor's Control Panel (CCP) kit provides an efficient solution for the contractor who prefers to assemble control panels in the field. Contractors can easily install preferred control components, terminate devices, and mount the finished panel to stay on schedule. The CCP kit is shipped with core components needed to complete the job, including aluminum DIN rail, grounding lug, terminal block, convenience outlet, inline fuse holder, secondary fuse protection, and transformer. Kits also include a perforated backing for easy mounting of preferred controls components with either NEMA 1 or NEMA 4 enclosure options. The Kele CCP is the perfect solution for contractors who want to maintain options but still save time and labor in the field.
CONTRACTOR CONTROL PANEL KIT, NEMA 4, 16X16X08