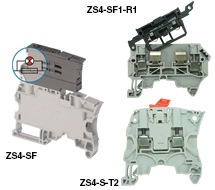 ZS4-SP-PK50 | TE Connectivity Corporation | Panel Fabrication
SWITCH TERMINAL DISCONNECT WITH PLUG-GREY-PACK 50
Manufacturer:
TE Connectivity Corporation
MPN:
ZS4-SP-PK50
SKU:
ZS4-SP-PK50
add to cart

product family specifications
K235 Series 0.197″ x 0/787″ (0.5 x 2.0 cm)
-67° to 230℉ (-55° to 110℃)
CE, UL File #E60645; CSA #2329965, RoHs
product family features
Fits both 5x20mm and 5x25mm fuses
Wiring of terminal block can be done when fuseholder is in closed position
Blown fuse indicator for quick identification of fuse failures
more information & related documents
The ABB SNK ZS4 Series disconnect switches and fuse holders provide a safe method for protecting or isolating a circuit. Once installed the fuse is enclosed and prohibits the installer from coming in contact with live circuit. You can quickly identify the defective circuit by the blown fuse indicator on some models.
SWITCH TERMINAL DISCONNECT WITH PLUG-GREY-PACK 50
TE Connectivity Corporation