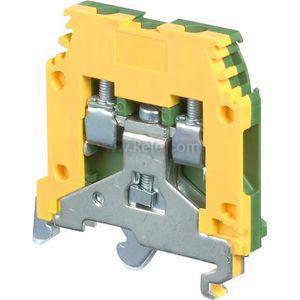 1SNA165113R1600 | TE Connectivity Corporation | Panel Fabrication
Grounding Lug Green Yellow
Manufacturer:
TE Connectivity Corporation
MPN:
1SNA165113R1600
SKU:
M4/6.P
Availability:
2,225 In Stock
add to cart

product specifications
Grounding Lug Green Yellow
GROUNDING LUG GREEN YELLOW
product family features
Wire secured by ribbed compression clamp
Universal DIN rail mounting
Reduced installation time
Block removable without displacing adjacent blocks
more information & related documents
The TE Connectivity Model M4/6 and M6/8 DIN rail terminal blocks offer a modular design for flexibility in layout and reduced installation time. Unique marker holders provide optional top- or side-mount marking capability. The Model M4/6 offers maximum circuit density while the Model M6/8 offers the convenience of larger screws for conventional screwdriver installation.
GROUNDING LUG GREEN YELLOW
TE Connectivity Corporation
M4-6-8 Datasheet