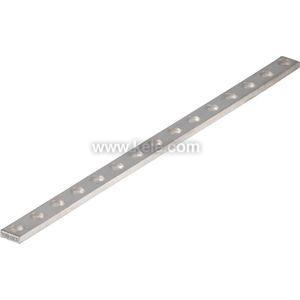 1SNA174788R0400 | TE Connectivity Corporation | Panel Fabrication
BJS8 - Jumper Bars - 3 poles - - 8mm Spacing, Pack of 5
Manufacturer:
TE Connectivity Corporation
MPN:
1SNA174788R0400
SKU:
BJS8-PKG5
add to cart

product specifications
BJS8 - Jumper Bars - 3 poles - - 8mm Spacing, Pack of 5
JUMPER BAR M6/8 20 POLE - PACK OF 5
product family features
Wire secured by ribbed compression clamp
Universal DIN rail mounting
Reduced installation time
Block removable without displacing adjacent blocks
more information & related documents
Model M4/6 DIN rail and M6/8 DIN rail terminal blocks offer a modular design for flexibility in layout and reduced installation time. Unique marker holders provide optional top- or side-mount marking capability, ideal for Building Automation Systems, BAS, applications. The Model M4/6 rail offers maximum circuit density while the Model M6/8 offers the convenience of larger screws for conventional screwdriver installation.
JUMPER BAR M6/8 20 POLE - PACK OF 5
TE Connectivity Corporation
M4-6-8 Datasheet