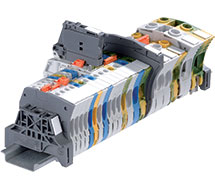 * product family image displayed
BAZH1-PK20 | TE Connectivity Corporation | Panel Fabrication
END STOP DOUBLE DECK DARK GREY FOR ZS6-D2-PACK 20
Manufacturer:
TE Connectivity Corporation
MPN:
BAZH1-PK20
SKU:
BAZH1-PK20
add to cart

product family specifications
-67° to 212℉ (-55° to 100℃)
UL File #E60645; CSA #2329965, CE, RoHs
product family features
Reverse mounting error-free; no short circuit possible
Double deck blocks have two marking areas
One (1) end section and one (1) circuit separator
Complete set of accessories
more information & related documents
The ABB Model ZS6 and ZS10 DIN rail terminal blocks offer a modular design for flexibility in layout and reduced installation time. Their unique profile allows for easy and ergonomic mounting. Marking surfaces can be read clearly from any angle in an enclosure and are larger than standard markers in the industry.The two terminal blocks central channels-aligned from 4mm-12AWG up to 16mm-4AWG terminal blocks offer flexibility of use. They offer common and polarity distribution with JB screwless jumper bars. One unique end section and circuit separator fits all feed-through terminal blocks.
END STOP DOUBLE DECK DARK GREY FOR ZS6-D2-PACK 20
TE Connectivity Corporation