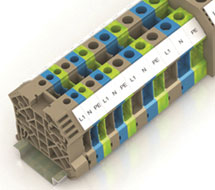 * product family image displayed
TRS3PK100 | Conta-Clip | Panel Fabrication
DOUBLE STACK END SECTION BEIGE PAK 100
Manufacturer:
Conta-Clip
MPN:
TRS3PK100
SKU:
TRS3PK100
add to cart

product family specifications
more information & related documents
The Conta-clip RK series DIN rail terminal blocks offer a modular design for flexibility in layout and reduced installation time. Unique marker holders provide optional top- or side-mount marking capability. The RK Series offers maximum circuit density while the terminal offers the convenience of larger screws for conventional screwdriver installation.
DOUBLE STACK END SECTION BEIGE PAK 100
RK series datasheet