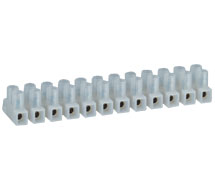 27002.3 | Conta-Clip | Panel Fabrication
TERMINAL STRIP 3 POLE 300V 8MM
Manufacturer:
Conta-Clip
MPN:
27002.3
SKU:
27002.3
add to cart

product family specifications
more information & related documents
The Conta-Clip 27XXX.3 Series double row of through screw terminal strips are a cost-effective alternative to barrier strips or other types of terminal blocks. They're easy to use; simply strip the wire and insert and tighten the terminal screw. The tubular screw terminal strips feature a dead front design that prevents shocks and shorts. The polyamide strips can be readily field-cut to the desired number of poles using only a utility or pocket knife.
TERMINAL STRIP 3 POLE 300V 8MM
27XXX.3 datasheet