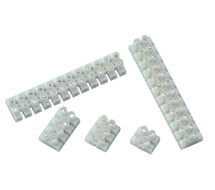 * product family image displayed
TS1.5/3WP | Altech | Panel Fabrication
TERMINAL STRIP 3 POLE 300V 8MM
Manufacturer:
Altech
MPN:
TS1.5/3WP
SKU:
TS1.5/3WP
Availability:
85 In Stock
add to cart

product family specifications
Tubular screw clamp with wire protector
0.32" (0.8 cm) 38 terminals/ft
0.47" (1.2 cm) 25 terminals/ft
UL File #E103245; CSA File #LR38962
product family features
Tubular screw clamp connection with wire protector
Opaque white polyamide 6.6 housing
Panel mounting or free floating
Recessed metal parts for finger protection
Easily cut to the required number of poles
more information & related documents
The TS Series double row tubular screw terminal strips are a cost-effective alternative to barrier strips or other types of terminal blocks. They're easy to use; simply strip the wire and insert and tighten the terminal screw. The tubular screw terminal strip features a dead front design to prevent shocks and shorts in HVAC applications and building automation systems, BAS. The polyamide nylon strips can be readily field-cut to the desired number of poles using only a utility or pocket knife. If a project requires multiple panels configured in the same way, consider using Kele's Custom Panel Shop. Experienced panel technicians will assemble the panels according to specifications and drawings.
TERMINAL STRIP 3 POLE 300V 8MM
TS Series Datasheet