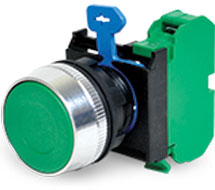 W22IPB-AMA-TM120I-10 | c3controls | Panel Fabrication
PSH BUT 22 MM ILL MOM ALMUSH AB 1 O 120V
Manufacturer:
c3controls
MPN:
W22IPB-AMA-TM120I-10
SKU:
2IPBAMATM120I10
availability:Usually Ships in Less Than 2 Business Days
add to cart

product family specifications
product family features
Guararnteed same-day shipping
more information & related documents
The c3controls 22 Series IEC Mushroom Push Button offers the best selection of illuminated and non-illuminated push buttons and selector switches on the market today. c3controls also have a full line of unibody and modular pilot lights, all engineered for superior durability and long life. Our multi-voltage LED light module can be operated at any voltage from 20V to 277V AC or DC. The modular design and easy-to-create assemblies offer convenience in ordering and assembly. The new line of factory assembled 22mm IEC Compact Control Stations offers the convenience of a single catalog number, shorter control panel bill of material, and easier inventory management. Kele is the leading supplier of building automation products. When you need the right product, right now, count on Kele.
PSH BUT 22 MM ILL MOM ALMUSH AB 1 O 120V