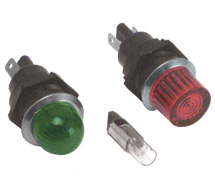 PLK120A | Kele | Panel Fabrication
120VAC/AMBER PANEL LIGHT IT
Manufacturer:
Kele
MPN:
PLK120A
SKU:
PLK120A
add to cart

product family specifications
Polycarbonate, flat or round
11/16" (1.75 cm) dia hole, supplied with polyester hex nut, Threaded
UL File #E20325; CSA File #LR13346
product family features
Noncorrosive black polyester body
Nickel-plated brass terminals for positive contact
Sturdy polycarbonate lenses
Simple installation with nylon hex nut
Replaceable incandescent lamps
more information & related documents
The L4000 Series replaceable incandescent pilot lights with associated colored lenses can be mounted to control panels to provide instantaneous status indication of mechanical equipment such as fans, pumps, compressors, or control circuits. In HVAC and building automation systems these are essential for visually indicating fan control, pump control and compressor control. If a project requires multiple panels configured in the same way, consider using Kele's Custom Panel Shop. Experienced panel technicians will assemble the panels according to specifications and drawings. Then, panels are shipped to a desired location. The information is saved so additional panels can be easily ordered on demand. Stop spending time on panel fabrication and let the experts do it.
120VAC/AMBER PANEL LIGHT IT