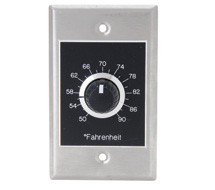 * product family image displayed
SPA | Kele | Panel Fabrication
POTENTIOMETER 0-10K OHM PLATE MTD CUSTOM LABEL
Manufacturer:
Kele
MPN:
SPA
SKU:
SPA
Availability:
Usually Ships in Less Than 1 Business Days
add to cart

product family specifications
product family features
Can be used as direct input to a controller
Customizable plate for color
Customizable plate for range
more information & related documents
The Kele SPA plate-mounted potentiometer is used as a setpoint input. This 0-10 kΩ 3-wire potentiometer can be used as a direct input to a controller. When combined with a VTI or UAT to convert to an analog signal, the SPA can be used to manually position a valve or damper actuator. When ordering one must specify label color, letter color, output (0/1-10VDC or 4/20 mA), range and sacle (℉ ,%). The SPA unit has three terminals with the center terminal as the wiper.
POTENTIOMETER 0-10K OHM PLATE MTD CUSTOM LABEL