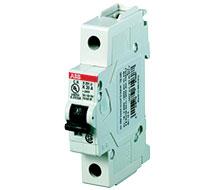 * product family image displayed
ST201M-K10 | Industrial Connections & Solutions | Panel Fabrication
CIRCUIT BREAKER, MINIATURE, 1P, K CURVE, 10A, 480Y/277 VAC, DIN MOUNT
Manufacturer:
Industrial Connections & Solutions
MPN:
ST201M-K10
SKU:
ST201M-K10
Availability:
Lead time > 15 days. See alternatives below or chat with Sales.
add to cart

product family specifications
-13° to 131℉ (-25° to 55℃)
Vertical and Horizontal on 35mm DIN rail
Additional Specifications
Short Circuit Capacity 10kA
Electromechanical (thermal/magnetic)
Single 0.71″W x 2.8″D x 3.6″H (1.8 x 7.1 x 9.2 cm)
2 Pole 1.38″W x 2.8″D x 3.6″H (3.5 x 7.1 x 9.2 cm)
3 Pole 2.47″W x 2.8″D x 3.6″H (6.3 x 7.1 x 9.2 cm)
product family features
Fast breaking time (2.5-3.5 msec)
DIN rail or front panel mounting
more information & related documents
The ABB S200U-K Series miniature circuit breakers are effective products for both commercial and industrial applications. The K-″power″ characteristic-function assures protection and control for circuits like transformer and auxiliary circuits, and against overloads and short-circuits. Two terminal spaces on top or bottom can be used for cables with different cross-sections or combination of cables and busbars. The S200U-K Series also feature a quick fastening system for easy removal of the devices from the busbar and have a patented IP 20 finger safe terminals.
CIRCUIT BREAKER, MINIATURE, 1P, K CURVE, 10A, 480Y/277 VAC, DIN MOUNT
Industrial Connections & Solutions
SU200M-K5 Data Sheet