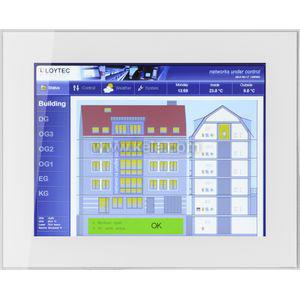 LVIS-3ME15-G3 | Loytec | Network & Wireless
15in. Glass-Touch Display, Multi-Protocol, White
Manufacturer:
Loytec
MPN:
LVIS-3ME15-G3
SKU:
LVIS-3ME15-G3
availability:Usually Ships in Less Than 10 Business Days
add to cart

product specifications
15in. Glass-Touch Display, Multi-Protocol, White
15IN GLASS-TOUCH DISPLAY, MULTI-PROTOCOL, WHT
product family features
High resolution TFT touch display with dimmable backlight
Anodized aluminum front frame
Flush-mounting in combination with the mounting frame
External temperature sensor L-TEMP1 (optional, up to 4 sensors) and 2 inputs for external light switches
Support multi-protocol (BACnet, LON, Modbus and OPC)l
Simple graphical programming with L-VIS configuration software included
more information & related documents
The Loytec LVIS Series touch panel are visual operation devices suited for building automation system applications. They provide visual or audio information at the panel with customized or standard graphic designs. All models support LonMark, BACnet, and Modbus TCP networks. Communication and connectivity is provided via Ethernet/IP, BACnet/IP, BACnet MS/TP, and RS-485 terminal connections. The LVIS Series comes with a 7", 12.1", or 15" screen in an aluminum adonized finished frame (12" and 15" models only) or a frameless glass front with capacitive touch. These units have an internal switch which allows a daisy chain topology of up to 20 devices and also allows redundant Ethernet (ring topology) enabled by RSTP.
15IN GLASS-TOUCH DISPLAY, MULTI-PROTOCOL, WHT
L-VIS User Manual
L-VIS-3MEx Datasheet
L-VIS-7 12 15 Inch Display Installation Sheet
LVIS-3E100 Datasheet
LVIS-3E100 Installation Instructions
LVIS-3E112/3E115 Installation Instructions
LVIS-3E112/3E115 Datasheet
LVIS-ME200 Installation Instructions
LVIS-ME200 Datasheet
LVIS-ME212/ME215 Installation Instructions
LVIS-ME212/ME215 Datasheet
LVIS-ME2xx BACnet Protocol Implementation Conformance Statement
L-VIS Series Flyer
LVIS User Manual