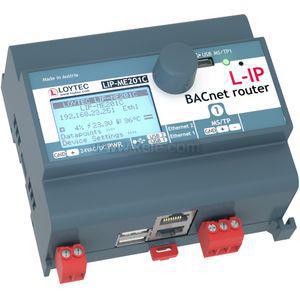 LIP-ME201C | Loytec | Network & Wireless
BACnet MS/TP To BACnet/IP Router
Manufacturer:
Loytec
MPN:
LIP-ME201C
SKU:
LIP-ME201C
Availability:
44 In Stock
add to cart

product specifications
BACnet MS/TP To BACnet/IP Router
BACNET MS/TP TO BACNET/IP ROUTER
product family features
Configuration via built-in Web server or serial port
more information & related documents
The Loytec L-IP Series of routers easily connect LON or BACnet networks to IP networks. Configuration is simple, and is accomplished through a built-in web server or serial port. The LON model supports both Smart Switch and Configured Router modes, and models are available for both FT-10 and XF-1250 physical networks. The BACnet model supports MS/TP on one side and BACnet/IP on the other.
BACNET MS/TP TO BACNET/IP ROUTER
LIP-ME201 BACnet Datasheet
LIP LON Model with Redundant Datasheet
LIP LON Models Installation Instructions
LIP LON Models Datasheet
LIP LON Models User Manual
LIP-ME201 BACnet Installation Instructions
LIP-ME201 BACnet User Manual
LIP-ME201 BACnet Protocol Implementation Conformance Statement
L-Switch/L-IP Multiport Device NID Assignment