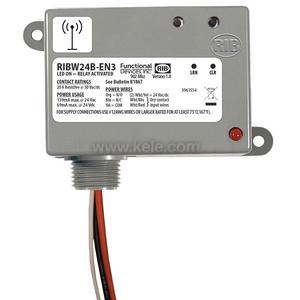 RIBW24B-EN3 | Functional Devices | Network & Wireless
EnOcean 902 MHz Enclosed Wireless Relay, Transceiver / Repeater, 20 Amp SPDT, 24 Vac/dc Power Input
Manufacturer:
Functional Devices
MPN:
RIBW24B-EN3
SKU:
RIBW24B-EN3
add to cart

product specifications
EnOcean 902 MHz Enclosed Wireless Relay, Transceiver / Repeater, 20 Amp SPDT, 24 Vac/dc Power Input
ENOCEAN 902MHZ ENCL RELAY 20A 24VAC 2W DRY-CONT
product family features
Decora style with several color choices
EnOcean enabled "energy harvesting" technology
No hardwiring for wireless switch transmitter
Up to 100 ft (30 m) typical indoor transmission distance
more information & related documents
Battery-free Functional Devices WWS Series wireless switch transmitters are used to control lighting, but they can be used to control virtually any on/off device. Each self-powered wireless switch transmitter can be placed anywhere within range of a receiver. Switch transmitters are powered by EnOcean's energy harvesting technology that converts the press of the switch into a small amount of electricity. This electricity is used to transmit a wireless signal that communicates with a wireless relay receiver. The WR Series wireless relay receivers are prepackaged with relay, LED, socket, mounting rail, transient protection, and housing. The relay receiver has built-in repeater function. Relay receives signal from wireless switch transmitter and rebroadcasts the signal to the next relay receiver.
ENOCEAN 902MHZ ENCL RELAY 20A 24VAC 2W DRY-CONT
WR Instructions