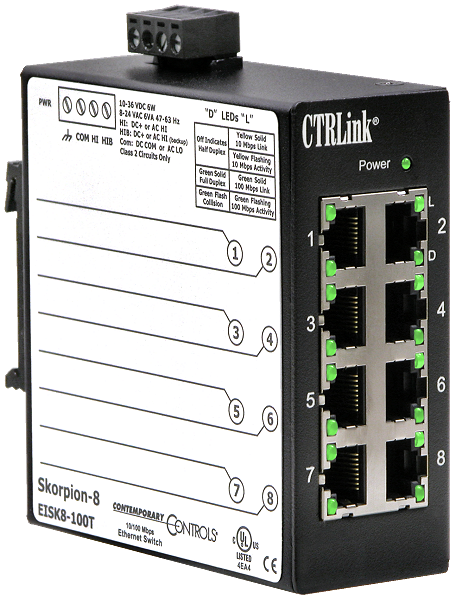 EISK8-100T | Contemporary Controls | Network & Wireless
Skorpion 8-Port 10/100Mbps Switch
Manufacturer:
Contemporary Controls
MPN:
EISK8-100T
SKU:
EISK8-100T
Availability:
Usually Ships in Less Than 5 Business Days
add to cart

product specifications
Skorpion 8-Port 10/100Mbps Switch
product family features
10BASE-T/100BASE-TX/100BASE-FX compliant
Auto-MDIX on all copper ports
Auto-negotiated data rate, duplex and flow control on twisted-pair ports
Activity/link and data rate LEDs
Industrial environment EMC
UL 508 Listed, C-UL Listed Industrial Control Equipment
10-36 VDC or 24 VAC (± 10%) 47-63 Hz Power is provided through a quick-disconnect terminal strip.
more information & related documents
Contemporary Controls Skorpion Switches are a plug-and-play Ethernet switch requiring no configuration. All ports automatically configure their data rate and duplex using the Auto-negotiation protocol. Depending on the capability of the link partner, communication is set at 10, 100 or 1000 Mbps and at either half- or full-duplex. Each port will accommodate either a straight-through or crossover cable by using the Auto-MDIX protocol.
8-P 10/100 SKORPION SWITCH
EISK5-GT Installation Guide
EISK8-100T Installation Guide
EISK8-100T Datasheet
EISK8-100TF Installation Guide
EISK16-100T Installation Guide
EISK8-100TF Datasheet
EISK8-100TFCS Installation Guide
EISK8-100TFT Installation Guide
EISK16-100T Datasheet
EISK8-GT Installation Guide
EISKG8-GT Datasheet
EISK5-100T Datasheet
EISK5-100T Datasheet
EISK5-100T Installation Guide
EISK5-100TF Datasheet
EISK5-100TF_ Installation Guide
EISK5-100TFCS Installation Guide
EISK5-100TFT Installation Guide
EISK5-GT Datasheet