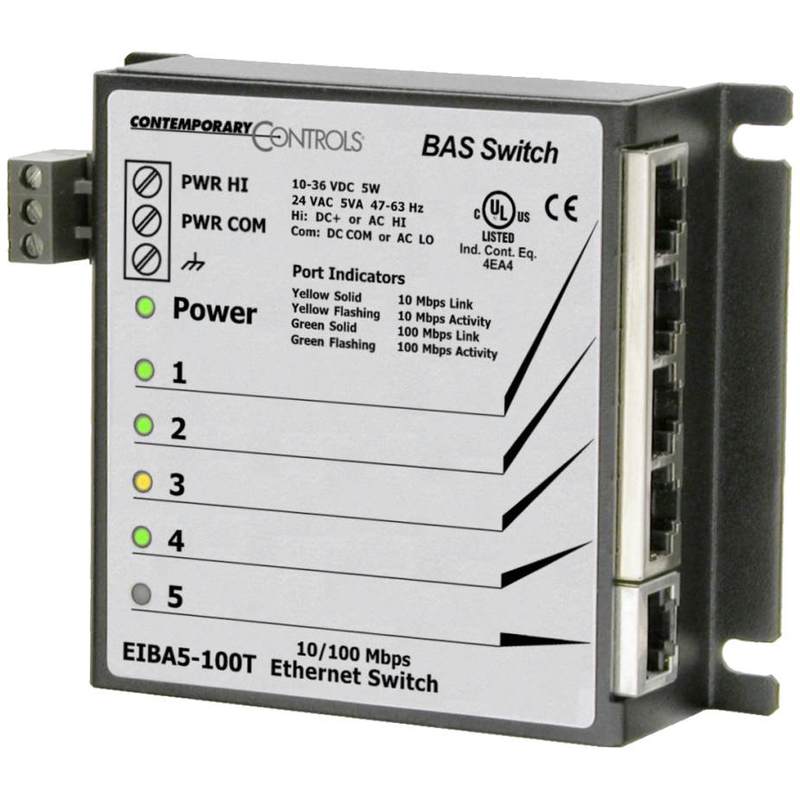 EIBA5-100T | Contemporary Controls | Network & Wireless
5-Port 10/100Mbps Panel Mount BAS Switch
Manufacturer:
Contemporary Controls
MPN:
EIBA5-100T
SKU:
EIBA5-100T
Availability:
16 In Stock
add to cart

product specifications
5-Port 10/100Mbps Panel Mount BAS Switch
product family features
10BASE-T/100BASE-TX compliant
Auto-negotiated data rate, duplex and flow control
Panel and DIN-rail mountable versions
Powered from an unregulated DC source (10-36 V) or an AC source (8-24 V, 47-63 Hz) via a quick-disconnect terminal strip
more information & related documents
The Plug-and-Play (PnP) EIBA BAS Ethernet Switches provide the functionality, mounting convenience, and ruggedness to fit most building automation systems. The popular EIBA5-100T Ethernet switch, which is designed for panel mounting is complemented by its DIN-rail cousin, the EIBA5-100T/R. Utilizing switching technology, the compact and low-cost EIBA switches provide five 10/100 Mbps shielded RJ-45 ports. Each port is Auto-MDIX compliant and can operate as an uplink port, eliminating the need for crossover cables. All ports automatically negotiate data rate, duplex, and flow control.
5-P 10/100 BUILDING AUTOMATION SWITCH