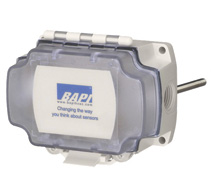 BA/WT-I-4 | BAPI | Network & Wireless
RF IMMERSION TEMP XMTR, 418MHZ @1MW
Manufacturer:
BAPI
MPN:
BA/WT-I-4
SKU:
BA/WT-I-4
availability:Usually Ships in Less Than 10 Business Days
add to cart

product family specifications
Supply Voltage 3.6 VDC, Battery power only
Batteries Two AA 3.6V lithium batteries (Included)
Battery Life ˜ 8 years @20 second intervals
Sensor Type Temperature, 10K-2 thermistor
Transmitted Range Value -40° to 185℉ (-40° to 85℃)
Accuracy Thermistor, 10K type 2, ±0.5℉ (±0.32℃)
Indication LED on Transmit
A/D resolution 10 bit (1024 counts)
Mounting 1/2″ NPT Direct to well
2″ probe 1.5″L from tip to 1/2″ NPT thread, 1/4″ diameter
4″ probe 3.5″L from tip to 1/2″ NPT thread, 1/4″ diameter
8″ probe 7.5″L from tip to 1/2″ NPT thread, 1/4″ diameter
Operating Temperature -40° to 185℉ (-40° to 85℃)
Operating Humidity 0% to 100% RH, non-condensing
Construction UV-Resistant Polycarbonate, UL94 V-0
Dimensions 4.1″H x 5.0″W x 2.5″D (10.4 x 12.7 x 6.4 cm)
NEXT COLUMN NEXT COLUMN NEXT COLUMN NEXT COLUMN NEXT COLUMN
Protocol (Proprietary, ZigBee, EnOcean) Proprietary (Point Six)
Frequency (MHz, GHz) 418 MHz
Modulation (DSSS, FHSS) Frequency Modulation
Transmit Power (db. and mw) 1mW ( 0 ㏈m)
Receiver Sensitivity (db. and mw) N/A
Open Air Range (Ft, Meters) 100 ft (30m)
Low Battery Indication, (Yes, No, How) None
Transmission time (ms) ˜ 20ms
Transmission Interval 20 seconds standard, (Can be factory programmed 10-300 s)
Antenna (internal, remote) Internal
Device Addresses (max number) 100 transmissions per minute
Programming (how) Push button in field
Repeater Capable Yes, (can increase open air range x10)
Compliance (FCC, RoHS, IEEE) RoHS
Temp. Only FCC ID# T4F060811TEMP
product family features
Wireless temperature sensing
Repeater available for 1000-foot range
Output modules available with voltage, current, or resistance outputs
Stainless steel temperature probe
Standard 316-stainless steel wells available
more information & related documents
The BAPI wireless immersion temperature transmitter BAWT-I-4 sense in-pipe conditions and send data with a battery operated 418 MHz transmitter. The sensor / transmitter is mounted in a NEMA 4 (IP66) enclosure with a 1/2″ NPT stainless steel temperature immersion probe suited for four inch well insertion. The transmitter has an open air range of 100 feet. The battery has an estimated eight-year life with transmission updates approximately every 10 seconds. Other immersion probe lengths are available.
RF IMMERSION TEMP XMTR, 418MHZ @1MW
BA-WT-I Datasheet