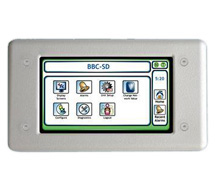 * product family image displayed
BBC-SD | American Automatrix | Network & Wireless
BACNET BUILDING CONTROLLER SMALL DISPLAY
Manufacturer:
American Automatrix
MPN:
BBC-SD
SKU:
BBC-SD
product family specifications
14 to 29 VAC @ 4 VA, 50/60 Hz; 14 to 29 VDC @ 167 mA
Type BACnet MS/TP Master Speed 9.6, 19.2, 38.4, 76.8 kbps, 57.6k, 115.2k SD/MMC Card Socket: Supports 2GB storage capacity
1 MB SRAM; 8MB Intel on board Flash
High-speed 32-bit processor running at 86 MHz
Touch screen Backlit 16:9 widescreen TFT color LCD, 480 x 272 pixels
32° to 122°F (0° to 50°C)
0 to 80% (non-condensing)
6.0" x 3.4" x 1.0" (15.24 x 8.64 x 2.54 cm)
1 year (120 days on software)
product family features
Able to automatically display and modify up to 150 BACnet object properties
Can manually address, view and modify any primitive data points on the BACnet network
50 configurable data screens containing live BACnet network data and/or hyperlinks to other data screens allow unique point groupings
12-bit color, 480 x 272 pixel TFT-based touch screen local user interface for data display and modification
Conforms to BACnet MS/TP LAN Standard
Multi-tiered icon-driven screen navigation
Multi-level numeric password-based access protection
Able to ″sniff″ network traffic, store and display up to 128 notifications or summary alarms
Flash program upgradeable through use of standard SD/MMC card port
Non-volatile memory stored on the BBC-SD for back-up and cloning over the network
Network time synchronization capabilities (requires interaction with a live time master)
Advanced MS/TP diagnostics utilities
Up to 16 linked BACnet schedules and calendars
more information & related documents
The BBC-SD is a BACnet MS/TP-based touch-screen interface providing local display information for BACnet-based Building Automation Systems. Through utilization of the intuitive graphical interface, building owners and tenants can navigate through the local display to learn more about working variables such as temperatures, set-points, schedule parameters, alarm data and much more. The BBC-SD can integrate with systems of any size as well as interact and display information from any BACnet device regardless of manufacturer or vendor.
BACNET BUILDING CONTROLLER SMALL DISPLAY