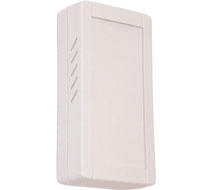 * product family image displayed
58-N-1202-CO2-R | Ideal Industries | Network & Wireless
915MHZ WIRELESS CO2 SENSOR
Manufacturer:
Ideal Industries
MPN:
58-N-1202-CO2-R
SKU:
58-N-1202-CO2-R
add to cart

product family specifications
24 VAC @ 124VA; 24 VDC @ 1 A
Temperature: +/- 1°F (50-100°F )
Humidity: +/- 3% (10-90%)
Serial, BACnet IP, BACnet Ethernet
BACnet MSTP, Modbus TCP, Modbus RTU
-4° to 122°F(-20° to 50°C) indoor use only
ABS plastic, UL94-5VA rating
6.6"W x 4.4"H x 1.75"D (16.7 x 11.1 x 4.4 cm)
FCC Part 15 and Industry Canada Contains FCC ID: OA3MRF24J0MA Contains IC: 7693A-24J40MA
product family features
BACnet,Modbus, LonWorks, Metasys N2, and XML.
Gateway supports up to 100 sensors and 800 sensor points
Gateway can be configured for redundancy in critical applications
more information & related documents
The Powercast 58-G1 Series IDEAL Wireless Sensor System enables wireless monitoring of environmental conditions for building automation, HVAC control, and energy management. The system includes a growing list of wireless sensor devices for measuring temperature, humidity, light, pressure, CO2, and other parameters. All sensor devices communicate wirelessly to a common gateway which supports a wide range of industry standard BAS protocols.
915MHZ WIRELESS CO2 SENSOR