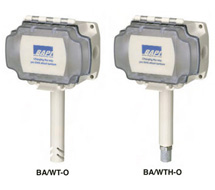 * product family image displayed
BA/WTH-O-BB | BAPI | Network & Wireless
RF OSA TEMP/RH XMTR, 418MHZ @1MW
Manufacturer:
BAPI
MPN:
BA/WTH-O-BB
SKU:
BA/WTH-O-BB
Availability:
Usually Ships in Less Than 10 Business Days
add to cart

product family specifications
3.6 VDC, Battery Power Only
Batteries Two AA 3.6V lithium batteries (included)
Battery Life 8 years @ 20 second intervals
Temperature, 10K-2 thermistor
Optional Humidity, Capacitive
Temperature Overall Range, -40° to 185℉ (-40° to 85℃)
Humidity Overall Range 0-100% RH
Temperature Thermistor, 10K type 2, ±0.5℉ (±0.32℃)
RH 2% Capacitive, 10-90% @ 77℉
Four screws direct to outside wall
RH Probe 2.4″L x 0.95″∅ weather shield
Temp Probe 2.4″L x 1/4″∅ weather shield
Can be factory programmed
Temp. Only 20 seconds standard (Can be factory programmed 10-300s)
RH and Temp. 40 seconds standard (Can be factory programmed 20-300s)
100 transmissions per minute
Temp. Only FCC ID# T4F060811TEMP
RH and Temp. FCC ID# T4F060811RH
-40° to 185℉ (-40° to 85℃)
RH Transmitter -22° to 158℉ (-30° to 70℃)
0% to 100% RH, Non-condensing
UV-Resistant Polycarbonate, UL94 V-0
4.1″H x 5.0″W x 2.5″D (10.4 x 12.7 x 6.4 cm)
product family features
Wireless temperature and humidity sensing
Repeater available for 1000-foot range
Output modules available with signal outputs of voltage, current, or resistance
Stainless steel temperature probe
PVC weather shield (temperature model)
Sintered filter (temperature / RH model)
more information & related documents
The BAPI BA/WT-O, BA/WTH-O wireless outside air temperature and humidity transmitters sense outside conditions and transmit them with a battery-operated 418 MHz transmitter. The sensor / transmitter is mounted in a NEMA 4 (IP66) enclosure with a 2.58″ stainless steel temperature probe or a 1.58″ temperature / humidity probe. The transmitter has an open air range of 100 feet. The battery has an estimated eight-year life with transmission updates approximately every 10 seconds. Other duct insertion probe lengths are available.
RF OSA TEMP/RH XMTR, 418MHZ @1MW