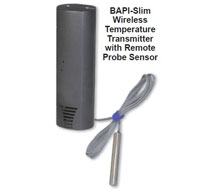 * product family image displayed
BA/WT-SL-RP-R10-RJ11 | BAPI | Network & Wireless
WIRELESS TEMP TRANS SLIM RM PROBE 10FT RIBBON RJ11
Manufacturer:
BAPI
MPN:
BA/WT-SL-RP-R10-RJ11
SKU:
BA/WTSLRPR10RJ
add to cart

product family specifications
3.6 VDC, Battery power only
One 1/2 AA 3.6V lithium batteries (Included)
˜ 4 years @20 second intervals
Temperature, 10K-2 thermistor
1.75″L x 1/4″dia, SS remote probe
Internal RJ11 jack no sensor (order sensor separately)
-40° to 185℉ (-40° to 85℃)
Thermistor, 10K type 2, ±1.0℉ (±0.55℃)
Two rear key slots or mounting tap
None or RJ11 plug per order
-22° to 122℉ (-30° to 50℃),
-40° to 185℉ (-40° to 85℃)
0 to 95% RH, Non-condensing
4.1″H x1.3″W x 1.2″D, (10.4 x 3.4 x 2.9 cm)
2 year (Any temp only transmitter and universal is:........ FCC ID# T4F060811TEMP)
NEXT COLUMN NEXT COLUMN NEXT COLUMN NEXT COLUMN
Protocol (Proprietary, ZigBee, EnOcean)
Transmit Power (db. and mw)
Receiver Sensitivity, (db. and mw)
Open Air Range, (Ft, Meters)
Low Battery Indication, (Yes, No, How)
20 seconds standard, (Can be factory programmed 10-300 s)
Antenna (internal, remote)
Device Addresses (max number)
100 transmissions per minute
Yes, (can increase open air range x10)
Compliance (FCC, RoHS, IEEE)
Temp. Only FCC ID# T4FSM061025
Industry Canada (IC:9067A-SM061025)
product family features
Wireless 100 foot open field range
Built in or remote temperature sensor
Slim unobtrusive design is easy to mount
more information & related documents
The BAPI-Slim Wireless Temperature Transmitter is designed to monitor temperature inside refrigerator and freezer cases. The BAPI-Slim mounts on the outside of freezer units and can be mounted either inside or outside of refrigerator units. The unit is available with an internal sensor or an RJ11 jack external sensor. The external sensor's ribbon cable can easily fit between the door seal or through hole with FEP cable without affecting appliance efficiency. The temperature is then transmitted at 30-second intervals to the receiver with a measurement range of -40 to 185˚F (-40 to 85˚C).
WIRELESS TEMP TRANS SLIM RM PROBE 10FT RIBBON RJ11