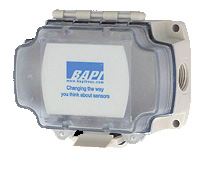 * product family image displayed
BA/VOM-10-AO-EZ | BAPI | Network & Wireless
0-10VDC, VOLTAGE OUTPUT MODULEÂ
Manufacturer:
BAPI
MPN:
BA/VOM-10-AO-EZ
SKU:
BA/VOM-10-AO-EZ
Availability:
Usually Ships in Less Than 10 Business Days
add to cart

product family specifications
3.6 VDC, Battery power only
Batteries Two AA 3.6V lithium batteries (Included)
Battery Life 8 years @20 second intervals
WTS Any Temperature, 10K-2 thermistor
WDI Dry Contact, 250Ω open (Held for 20 seconds)
WAI-(05,10) Voltage input (0-5V or 0-10V), >30KΩ
WAI-420 Current input (4-20mA), 100Ω Imp.
Temperature -40° to 185℉ (-40° to 85℃)
Digital Input Open and Closed
WAI-(05,10) Mimics input 0-5V or 0-10V
WAI-420 Mimics input 4-20mA
Output modules used with these transmitters (BA/RCV req.)
WTS BA/(ROM,VOM,COM) (temperature range)
WDI BA/RYOL-NO-EZ, (Output Mimics Input)
WAI-(05,10) BA/VOM-(05,10), (Output Mimics Input)
WAI-420 BA/COM, VOM, (Output Mimics Input)
Thermistor, 10K type 2, ±0.5℉ (±0.32℃)
Analog limited to A/D resolution
Four corner mounting feet
Two input terminals, 22-16 AWG
5 to 95% RH, Non-condensing
UV-Resistant Polycarbonate, UL94 V-0
4.1″H x 5.0″W x 2.5″D (10.4 x 12.7 x 6.4 cm)
20 seconds standard, (Can be factory programmed 10-300 s)
100 transmitters within 100'
Yes, (can increase open air range x10)
RoHS, FCC ID# T4F060811TEMP
product family features
Two Year Battery Powered with Replaceable Battery
0-5, 0-10 and 4-20mA Analog Input Models
Digital Input (dry contact) Model
Thermistor Temperature Input Model
100' open air range, 1,000' range with a Repeater
Transmission Interval from 20 seconds
Easy Two-Wire Termination and Easy Setup Mode
more information & related documents
The BAPI BA/W Series wireless universal input transmitters are designed to monitor 0-5VDC, 0-10VDC or 4-20 mA signals and transmit that analog value to a receiver. The digital input version monitors any dry contact status input and transmits that On/Off status to the receiver. The thermistor temperature input version takes any 10K Type 2 thermistor sensor and transmits it to any BAPI receiver. All models transmit their data every 10-17 seconds. The units are battery operated and only require wiring from the remote input sensor.
0-10VDC, VOLTAGE OUTPUT MODULEÂ
WAI, WDI, WTS Installation Instructions