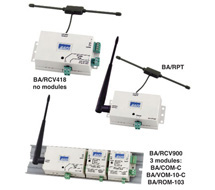 * product family image displayed
BA/TRK08 | BAPI | Network & Wireless
TRK - TR2 SNAPTRACK 8IN
Manufacturer:
BAPI
MPN:
BA/TRK08
SKU:
BA/TRK08
Availability:
Usually Ships in Less Than 10 Business Days
add to cart

product family specifications
RCV418 9 to 30 VDC @80mA or 17 to 31 VAC @0.5VA
RS485 bus to a maximum of 127 "″Output Modules″"
(DO) BA/RYOM (momentary, BA/RYOL (latching)
LED blinks on each reception
DIN rail or 2 screws to back plane
Output modules plug into the right side of receiver
1, RP-SMA antenna connection and 2 Power terminals, 22-16 AWG
5% to 95% RH non-condensing
2.75″H x 4.8″W x 1.2″D, (7.0 x 12.0 x 3.0 cm)
418 MHz or 902 MHz (order specific)
RCV418 418 MHz, Direct reception NO repeater
RCV900 902 MHz, Requires a repeater to be in the system
418 MHz -Frequency Modulation
RCV418 = 100ft from all transmitters, (Open air)
RCV900 = 1000ft from closest repeater, (Open air)
External 418 MHz or external 900 MHz
100 transmissions per minute
Push button on ″Transmitter/Output Module″ simultaneously
product family features
Receivers accommodate 127 output modules each
Receiver sensitivity -106 dBm minimum
Repeater transmit power 100 mW
1000-foot repeater range (open air)
Snap-track or DIN rail mounting
more information & related documents
The BAPI BA/RCV Wireless Receivers detect the radio signals from sensor transmitters or BA/RPT repeaters and send the value through a hard-wired RS485 bus to dedicated output modules. Each receiver can accommodate 127 output modules, which come in a variety of output types including thermistor simulation (10K Ω type 2 or 3), 4-20 mA, 0-5 VDC, 0-10 VDC, and solid-state switch. The BA/RCV418 receives signals directly from sensor transmitters at 418 MHz. The BA/RCV900 receives signals only from repeaters at 900 MHz. The BAPI BA/RPT Wireless Repeater detects all 418 MHz and repeated 900MHz transmitter signals, and re-transmits the signal at 900 MHz to extend useable wireless distance to 1000 feet open air. These signals are received with a BA/RCV900 for RS485 communication distribution to the output modules.