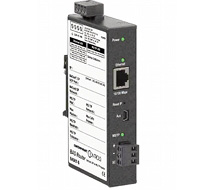 * product family image displayed
BASRTLX-B/P | Contemporary Controls | Network & Wireless
BAS ROUTER BACNET PANEL MOUNT
Manufacturer:
Contemporary Controls
MPN:
BASRTLX-B/P
SKU:
BASRTLX-B/P
Availability:
Lead time > 15 days. See alternatives below or chat with Sales.
add to cart

product family specifications
24 VAC @ 4 VA, 24 VDC @ 167 mA
Ethernet BACnet IP, IEEE 802.3 10/100 Mbps data rate 10BASE-T, 100BASE-TX (100 m (max) CAT5 cable length)
MS/TP BACnet MS/TP, ANSI/ASHRAE 135 (ISO 16484-5) 9600, 19200, 38400, 76800 bps data rate EIA-485 (1200 m (max) cable length)
Ethernet Green = 100 Mbps
MS/TP Flashing green = receive activity
32° to 140°F (0° to 60°C)
10 to 95% (non-condensing)
4.85"H x 2.74"W x 1.0"D (12.3 x 1.9 x 2.5 cm)
CE Mark; CFR 47, Part 15 Class A, RoHS
more information & related documents
The BASRT-B BACnet multi-network router provides stand-alone routing between BACnet networks such as BACnet/IP, BACnet Ethernet, and BACnet MSTP. This allows the system integrator to mix BACnet network technologies within a single BACnet internetwork. There are two physical communication ports on the BAS Router. One is a 10/100 Mbps Ethernet port and the other an isolated MS/TP port. Configuration is accomplished via a web page. The BACnet router is housed in a plastic case that is powered from a USB port on a laptop computer. There is one MS/TP port and one 10/100 Mbps Ethernet port.
BAS ROUTER BACNET PANEL MOUNT
BASRT-B Installation Guide