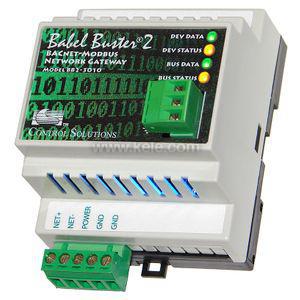 BB2-3010-232 | Control Solutions | Network & Wireless
Modbus RTU To BACnet MS/TP RS232 Option
Manufacturer:
Control Solutions
MPN:
BB2-3010-232
SKU:
BB2-3010-232
Availability:
Usually Ships in Less Than 4 Business Days
add to cart

product specifications
Modbus RTU To BACnet MS/TP RS232 Option
MODBUS RTU TO BACNET MS/TP RS232 OPTION
product family features
Easy to use and cost effective
Variety of models support all major building automation protocols
BACnet to LonWorks or LonWorks to BACnet translation
BACnet to Modbus or Modbus to BACnet translation
BACnet to SNMP or SNMP to BACnet
LowWorks to Modbus or Modbus to LonWorks translation
Modbus to BACnet IP to WiFi Sensors (Point6, AirTest, Veris)
Bacnet to ZigBee and Modbus to ZigBee
more information & related documents
Control Solutions BB2 Babel Buster Series gateways are devices that re-map network devices having different protocols. Variety of model options provide support for building automation with BACnet IP or MS/TP, LonWorks, Modbus RTU, TCP and selected wireless protocols such as ZigBee and WiFi. The device can create master/slave operation or support multiple data input sorts from other connected devices.
MODBUS RTU TO BACNET MS/TP RS232 OPTION