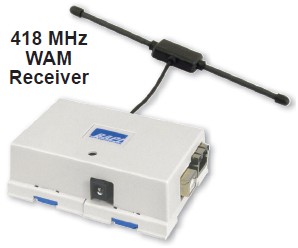 * product family image displayed
BA/RCV418-WAM-WP-EZ | BAPI | Network & Wireless
WAM RECEIVER/GATEWAY W/ 7 IN. WHIP ANTENNA
Manufacturer:
BAPI
MPN:
BA/RCV418-WAM-WP-EZ
SKU:
BA/RCV418WAMWP
Availability:
Usually Ships in Less Than 3 Business Days
add to cart

product family specifications
product family features
100 Foot Open Reception Range
Remote Antenna Option for Optimum Reception
Surface, Snaptrack or DIN Rail Mounting
RJ45 and USB-B Communication Connections
Local or Custom Web-based Sensor Monitoring
more information & related documents
The Wireless Asset Monitor (WAM) unit receives data from all BAPI wireless 418 MHz sensor/transmitters. The receiver delivers the data simultaneously to the Universal Serial Bus (USB) output for local use and to the RJ45 Ethernet port for communication with a BAPI WAM Website or to a web address of your choice. Multiple length antennas are available for ease of installation and optimal reception. The EZ mount system allows for DIN rail, snaptrack or surface mounting. Two software programs and USB drivers are included on a CD. The first program identifies the IP address assigned to the WAM Receiver by the Dynamic Host Configuration Protocol (DHCP) network. The other program runs on the user's computer to locally monitor the wireless sensor/transmitters or to interface with the user's Building Automation System (BAS) equipment.
WAM RECEIVER/GATEWAY W/ 7 IN. WHIP ANTENNA