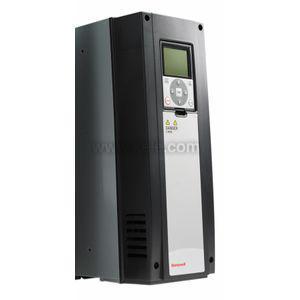 HVFDSD3C0100G100A | Honeywell | Motor Controls
Variable Frequency Drive (VFD) 480V, 10HP, Graphical Display, NEMA 1, Drive Alone
Manufacturer:
Honeywell
MPN:
HVFDSD3C0100G100A
SKU:
HVDSD3C0100G10
availability:Usually Ships in Less Than 7 Business Days
add to cart

product specifications
Variable Frequency Drive (VFD) 480V, 10HP, Graphical Display, NEMA 1, Drive Alone
VFD, STD, 480VAC, 10HP, NO BYPASS, NO DISC, NEMA 1
product family features
Ideal for low to high hp pumps and fans
High resolution graphic interface
User manual included in firmware
Simple start-up wizard - pump or fan
more information & related documents
SmartVFD HVAC drives are all-purpose, and can handle both constant-torque and variable-torque loads. The firmware includes special features that make start-up and commissioning of HVAC applications especially easy. Application-specific start-up wizards for pumps and fans, combined with the simple and intuitive user interface, make the SmartVFD a pleasure rather than a chore. Integration is a snap with the SmartVFD. It includes both Ethernet and RS485 connections, and will talk BACnet, Modbus, and JCI N2. Take the complexity out of drive selection, installation, and startup - choose SmartVFD for your HVAC projects and start saving time, money, and manpower as well as energy.
VFD 480V, 10HP, GRD, NEMA1, DRIVE ALONE