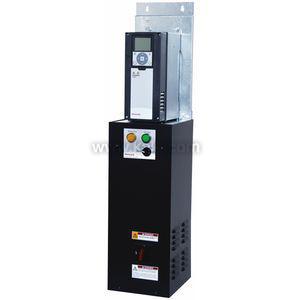 HVFDSB3C0030G331/U | Honeywell | Motor Controls
Variable Frequency Drive (VFD) 480V, 3HP, Graphical Display, NEMA 3R, 3 Contactor Bypass, Fused Disconnect, Auto Bypass
Manufacturer:
Honeywell
MPN:
HVFDSB3C0030G331/U
SKU:
HVFDSB3C0030G331/U
availability:Usually Ships in Less Than 35 Business Days
add to cart

product specifications
Variable Frequency Drive (VFD) 480V, 3HP, Graphical Display, NEMA 3R, 3 Contactor Bypass, Fused Disconnect, Auto Bypass
VFD, STD, 480VAC, 3HP, BYPASS (3 CONTACTOR), DISCONNECT, NEMA 3R
product family features
Ideal for low and high hp fans and pumps
Disconnect, 2-, or 3-contactor bypass
Available in NEMA 1, 12, or 3R enclosure types
SmartVFD wizard for pump or fan control
High resolution graphic interface
User manual built in to firmware
more information & related documents
Honeywell's integral bypass and disconnect system make applying the SmartVFD drive a snap. Available with a simple fused disconnect switch, a 2-contactor bypass assembly, or a 3-contactor bypass assembly, it simplifies installation. All the features of the SmartVFD are included – a wide array of configurable inputs and outputs, and all the most popular network protocols, and the super easy startup wizards that speed commissioning. All drives feature Hand-Off-Auto operation as a is fully integrated keypad function. Make the SmartVFD choice for your variable speed drive needs.
VFD 480V, 3HP, GRD, NEMA3R, 3 CTR BP, FDISC, ABP